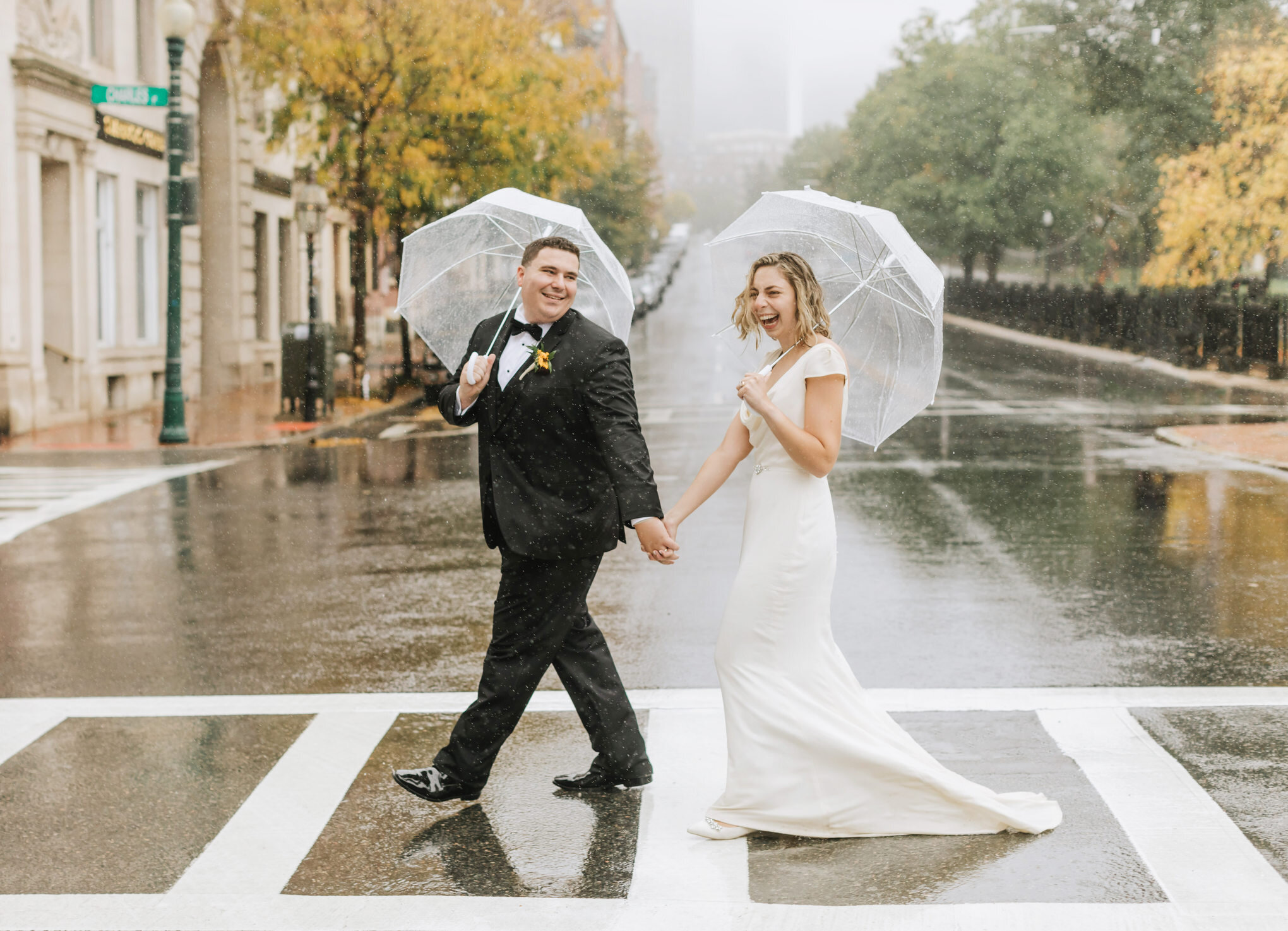 A lot of people ask what we do if it rains on your wedding day ☔️
I have answers!
For traditional weddings, your ceremony will be moved inside the venue. I bring lots of flashes and batteries, so if needed, I'll use flash indoors to make your photos bright and light just like they would be outside.
If it really is pouring, family and wedding party photos will also happen inside, or sometimes on a porch or under an overhang. I can find beautiful spots lightning fast that work best for light, wind direction, and size to fit all your family groupings.
95% of my couples still want outdoor photos regardless of the weather. They're troopers! They know that 5 minutes in the rain will get them a lifetime of looking at their gorgeous outdoor photos, so it's worth it. I have 2-5 adorable clear umbrellas in my trunk at all times in preparation for bad weather. We stay dry yet fashionable, and when everyone has had enough, we go back inside to freshen up. If there's a break in the weather later on in the day, we'll sneak outside for 3-4 minutes for those fabulous portraits.
For Boston City Hall weddings or elopements, it's a little trickier but still doable!
Boston doesn't really have any indoor locations that allow professional photography – sometimes we can slip in undetected, but not when you're wearing wedding attire. We get spotted and kicked out right away.
So, we ROLL WITH IT. I have adorable clear umbrellas to keep you dry, and we march on as planned. Bring rain boots so high heels don't get soaked, a jacket to take on and off, and gloves if it's cold. There are locations at City Hall that have overhangs for shelter for family photos if you have guests joining you, and I'm happy to stop in a coffee shop along the way to warm up, get dry, and have a hot cocoa (or a margarita, depending on how warm you need to get)⁠
Depending on the flexibility of the couple and officiant, if the next day looks totally sunny and clear, or earlier that day looks cloudy vs rainy at the scheduled time, we can reschedule or shift the ceremony time! We all want the best photos for you, too, so it's free and as long as we're available, happy to do it. Check with hair, makeup, or floral deliveries to see if they're flexible too, but this is a last ditch option! However, I'd say 95% of my couples get married on their scheduled date and embrace the good luck of the rain.
Every single one of my rainy day couples had a BLAST despite the weather. Most of the time we get lucky and it doesn't rain as hard as predicted, or we get a break in the precipitation, but even if mother nature dumps on us – your photos will be stunning!!!
Need help wedding planning?
Check out BRAND NEW ARTICLES on wedding planning hacks